Transformers (2007) Trailer #1 | Movieclips Classic Trailers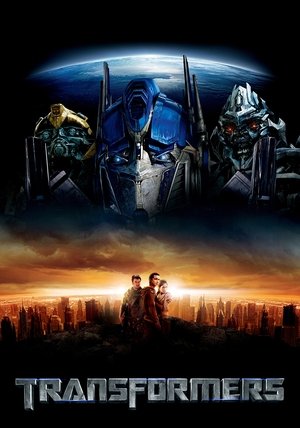 Transformers
Overview
Young teenager Sam Witwicky becomes involved in the ancient struggle between two extraterrestrial factions of transforming robots – the heroic Autobots and the evil Decepticons. Sam holds the clue to unimaginable power and the Decepticons will stop at nothing to retrieve it.
Cast

Shia LaBeouf
Megan Fox

Josh Duhamel
Tyrese Gibson

Rachael Taylor

Anthony Anderson

Jon Voight

John Turturro
Michael O'Neill

Kevin Dunn

Julie White

Amaury Nolasco

Zack Ward
Patrick Mulderrig
Michael Trisler
Ashkan Kashanchi

Rizwan Manji

William Morgan Sheppard

C.J. Thomason

Bernie Mac

Carlos Moreno Jr.

Johnny Sanchez
John Robinson
Travis Van Winkle
Peter Jacobson

Glenn Morshower

Charlie Bodin

Joshua Feinman
Chris Ellis
Brian Stepanek

Steven Ford
Michael Shamus Wiles
Andy Milder
Craig Barnett

Brian Prescott

Scott Peat

Colleen Porch

Jamie McBride

Wiley M. Pickett

Samantha Smith
Ravi Patel
Rick Gomez
Mike Fisher
Colin Fickes
Tom Lenk

Jamison Yang

Esther Scott

Madison Mason

Andrew Lewis Caldwell
J.P. Manoux
Pete Gardner
Laurel Garner

Michael Adams

Benjamin Hoffman

Michelle Pierce
Odette Annable
Bob Stephenson

Peter Cullen

Mark Ryan

Darius McCrary

Robert Foxworth

Jess Harnell

Hugo Weaving

Jimmie Wood
Reno Wilson
Charlie Adler

Michael Bay
Colton Haynes

Brian Reece
Crew
Steven Spielberg

Michael Bay

Michael Bay

Don Murphy
Jane Jenkins
Beat Frutiger

Michelle Lewitt

Ian Bryce
Lorenzo di Bonaventura

Deborah Lynn Scott

Craig Berkey
Rosemary Brandenburg
Alex Kurtzman
Alex Kurtzman

Roberto Orci

Roberto Orci
Steve Jablonsky
Mark Vahradian

Mitchell Amundsen
Allegra Clegg
Allegra Clegg

Natascha Hopkins

Greg Funk

Greg Funk
Nina Kaczorowski

Armen Ksajikian

Wendi Bromley

Troy Robinson
Scott Farrar

Ethan van der Ryn

Jennifer Badger
Mike Hopkins
Boni Yanagisawa

Alina Andrei
Shauna Duggins
Sabine Varnes

Meegan E. Godfrey
Barbara Anne Klein

Ming Qiu
Check out the official Transformers (2007) trailer starring Shia LaBeouf! Let us know what you think in the comments below.
► Buy or Rent on FandangoNOW: https://www.fandangonow.com/details/movie/transformers-2007/1MV8081605b53b17d428b9bc8763966a3b3?ele=searchresult&elc=transform&eli=0&eci=movies?cmp=MCYT_YouTube_Desc
Starring: Shia LaBeouf, Megan Fox, Josh Duhamel
Directed By: Michael Bay
Synopsis: An ancient struggle between two Cybertronian races, the heroic Autobots and the evil Decepticons, comes to Earth, with a clue to the ultimate power held by a teenager.
Watch More Classic Trailers:
► Comedies: http://bit.ly/2qTCzPN
► Dramas: http://bit.ly/2tefVm2
► Sci-Fi Movies: http://bit.ly/2msyb5C
Fuel Your Movie Obsession:
► Subscribe to CLASSIC TRAILERS: http://bit.ly/2D01HJi
► Watch Movieclips ORIGINALS: http://bit.ly/2D3sipV
► Like us on FACEBOOK: http://bit.ly/2DikvkY
► Follow us on TWITTER: http://bit.ly/2mgkaHb
► Follow us on INSTAGRAM: http://bit.ly/2mg0VNU
Subscribe to the Fandango MOVIECLIPS CLASSIC TRAILERS channel to rediscover all your favorite movie trailers and find a classic you may have missed.